Deepening Ayurvedic Knowledge & Practices
January 10 @ 7:00 pm

-

January 12 @ 4:00 pm
Learn how to recognize your unique dosha and pursue practical ways to correct imbalances. During this weekend workshop we will focus on the principles of Ayurveda, guiding you through self-care techniques, ways to address digestion and nutrition thru food preparation & lifestyle practices! Sign up for personal consultations as well as bodywork.
Investment in Your Health: $265 without lodging.
Lodging Options: We have several lodging options available. Shared Rooms are $50/night and Private Rooms are $75/night.
A 50% deposit is due to secure your spot with balance due by 12/31/19
For more information, please email Edna Meyer at [email protected] or call 802-681-3336
About our teachers: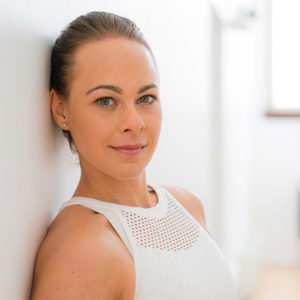 Larissa Hall Carlson, E-RYT 500, MA, former Dean of the Kripalu School of Ayurveda, guides retreats, directs advanced yoga teacher trainings, and provides Ayurvedic consultations across the country. She is a graduate of both the Kripalu School of Yoga and the Kripalu School of Ayurveda. Larissa co-directs with Dr. Douillard two online courses for Yoga Journal: "Ayurveda 101: Doshas" and "Ayurveda 201: Psychology." Each summer, she teaches yoga to reduce performance anxiety for the elite musicians of Tanglewood Music Center. She is passionate about empowering and encouraging people to live in harmony with the rhythms of nature through the time-honored teachings of yoga, Ayurveda, and mindfulness. Larissa has been featured in Yoga Journal, MindBodyGreen, Elephant Journal, More, Mantra, Spirituality & Health, InStyle, the Kitchn, Men's Journal, Yoganonymous, and Dr. Oz's The Good Life. www.larissacarlson.com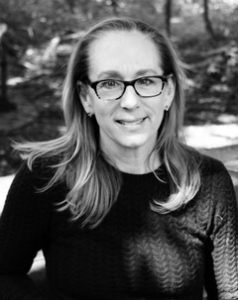 SAMANTHA PARKER, CAHC
Samantha Parker is  Board Certified by the National Ayurvedic Medical Association. She has a private practice in Ridgefield CT where each client receives individual attention in a small private setting. She uses in-depth principles of Ayurveda with outstanding results with all health problems. Her studies in Ayurveda encompass whole body.  She brings her multifaceted healing experience into her practice empowering clients to make healthier lifestyle choices and expand their knowledge and understanding of the powerful medicinal effects of food, spices and herbs as defined by Ayurveda. Her travels in India and time spent in a Ayurvedic healing village deepened her understanding of the ancient teachings of how Ayurveda defines us individually as a basis for understanding health. 
She uses food first as the medicinal path to heal and regain balance, working with each client providing ongoing support, guidance and accountability towards fully resetting habits in the body and mind. Her experience stems from the knowledge of her own personal health journey and as someone who faces the same challenges of modern life as you do.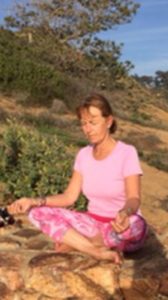 Edna Meyer
is a Certified Kripalu Yoga Instructor, Reiki Master and Kripalu trained Meditation Instructor.  She has completed Kripalu's Advanced Yoga and Guided Meditation Teacher Training module in the 300 hour Kripalu Ayurvedic Yoga Teacher Training Program and continues in her pursuit of this program certification.
Edna resides in Peru, Vermont and is the owner/operator of Edna's Garden, an organic grower of medicinal herbs and flowers.  She has been an advocate of organic growing for many years as presenter at The Vermont Flower Show, given many lectures in presenting to various Garden Clubs including Burlington, Vermont Annual Garden Club Meeting, with her solely developed presentations on The Use  of Native Vermont Botanical Medicinal Herbs.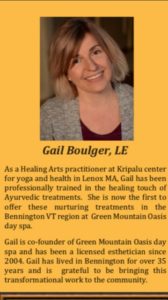 The following treatments are available during the weekend and offered by Gail Boulger. Private sessions can be booked upon arrival on 1/10/20. Contact Edna with questions at 802-681-3336
Abhyanga ~ Warm Oil Body Treatment
Slow rhythmic strokes massage the healing herbal
oil deep within the tissues to restore the flow
of prana (energy). This deeply grounding treatment
increases circulation, releases toxins and deeply
soothes the nervous system.
60 min. ~ $90
Add Garshana (dry silk glove exfoliation) $15
Add Shirodhara 30 min. ~ $40
Ayurvedic Facial Experience
Sink deep into relaxation as the grounding scents
and healing warm oils from India nourish your
skin and soothe your mind. This luxurious treatment
will leave you positively radiant!
60 min. ~ $85
30 min. ~ $50
Shirodhara ~ Deeply Calms the Mind
This experience begins with a marma point
face and scalp massage. Your journey into bliss
continues as warm herbal oil is poured in a
thin steady stream directly onto the forehead
(third eye). Shirodhara balances the mind,
calms anxiety, reduces headaches, and expands
awareness. 45 min. ~ $70